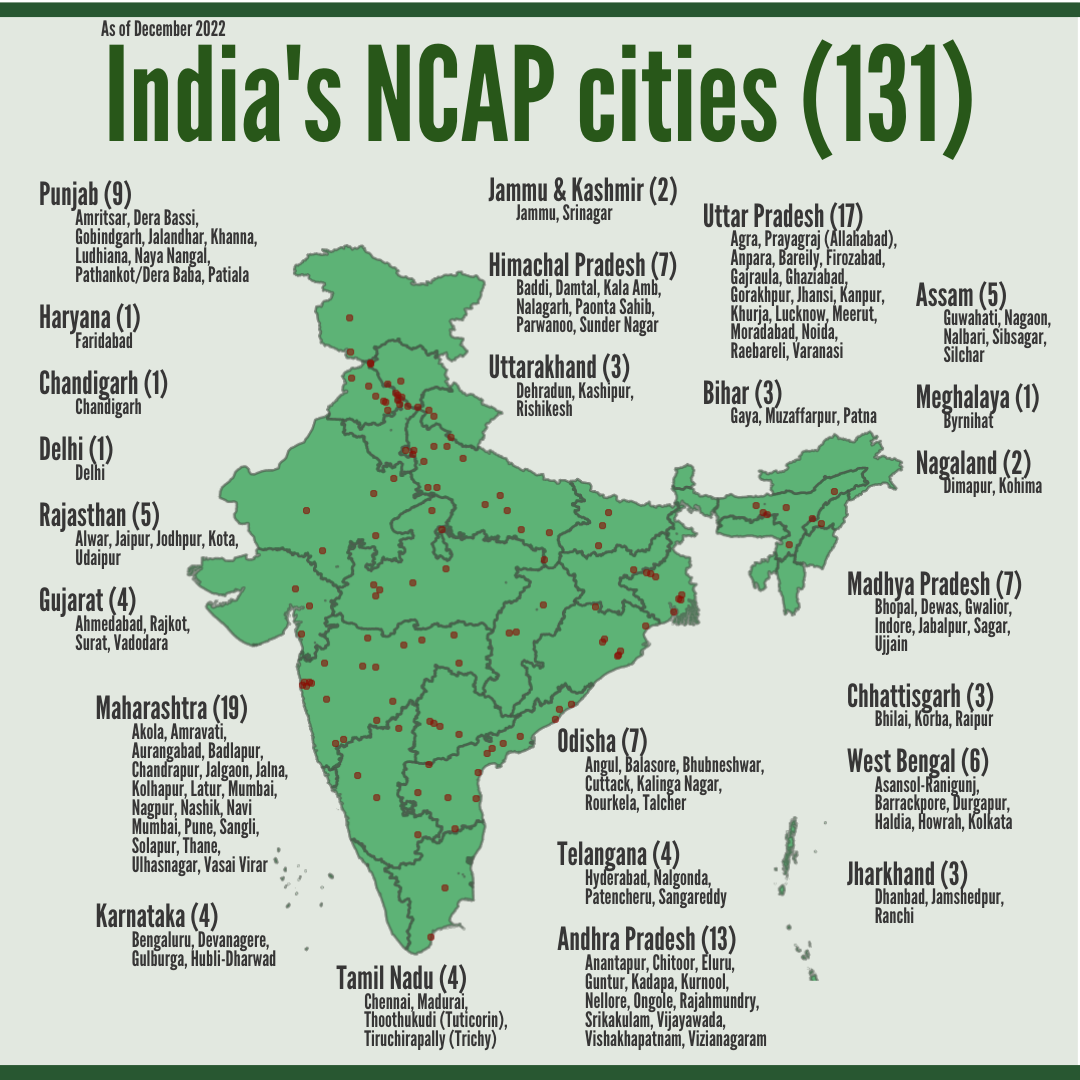 Updated: March, 2023
India's Ministry of Environment Forests and Climate Change (MoEFCC) launched the National Clean Air Programme (NCAP) in 2019, aimed at reducing ambient PM pollution levels in 131 non-attainment cities from 24 states and union territories. The first batch of 102 non-attainment cities exceeded the national ambient standards for either PM2.5, PM10 or NO2 for five consecutive years. Over the next two years, this list was integrated with top 10 Indian cities on World Health Organization (WHO)'s most polluted list and some more cities showing an increasing trend in these pollutant concentrations. The programme in 2019, required these cities to prepare action plans to reduce the PM pollution levels by 20-30% by 2024, relative to 2017 levels. In 2022, the target was revised to reduce PM pollution levels by 40% by 2026. Maharashtra has the highest number of non-attainment cities with 19, followed by Uttar Pradesh, the most populous state in the country, with 17.
A summary of the proposed airsheds is included in the table below. Some airsheds also include other NCAP cities and some other cities. These 104 airsheds collectively represent 164 cities (131 from NCAP and 33 others) and 295 million people (based on Landscan 2021 database). Visualize and download a copy of the proposed grid structure in KML/CSV format here.
| Airshed.No | State | NCAP City | Other NCAP cities | Other Cities |
| --- | --- | --- | --- | --- |
| 1 | Andhra Pradesh | Anantapur | | |
| 2 | Andhra Pradesh | Chitoor | | |
| 3 | Andhra Pradesh | Eluru | | Hanuman Junction |
| 4 | Andhra Pradesh | Kadapa | | |
| 5 | Andhra Pradesh | Kurnool | | |
| 6 | Andhra Pradesh | Nellore | | |
| 7 | Andhra Pradesh | Ongole | | |
| 8 | Andhra Pradesh | Rajahmundry | | |
| 9 | Andhra Pradesh | Srikakulam | | |
| 10 | Andhra Pradesh | Vijayawada | Guntur | Tenali |
| 11 | Andhra Pradesh | Vishakhapatnam | | Anakapalle |
| 12 | Andhra Pradesh | Vizianagaram | | |
| 13 | Assam | Guwahati | Byrnahati | Dispur |
| 14 | Assam | Nagaon | | |
| 15 | Assam | Nalbari | | |
| 16 | Assam | Sibsagar | | |
| 17 | Assam | Silchar | | |
| 18 | Bihar | Gaya | | |
| 19 | Bihar | Muzaffarpur | | |
| 20 | Bihar | Patna | | |
| 21 | Chandigarh | Chandigarh | Dera Bassi, Parwanoo | Panchkula, Kalka |
| 22 | Chhattisgarh | Korba | | |
| 23 | Chhattisgarh | Raipur | Bhillai | Durg |
| 24 | Delhi | Delhi | Faridabad, Ghaziabad, Noida | Greater Noida, Gurugram, Palwal, Manesar, Sonipat |
| 25 | Gujarat | Ahmedabad | | Gandhi Nagar |
| 26 | Gujarat | Rajkot | | |
| 27 | Gujarat | Surat | | Hazira |
| 28 | Gujarat | Vadodara | | |
| 29 | Himachal Pradesh | Kala Amb | | |
| 30 | Himachal Pradesh | Nalagarh | Baddi | |
| 31 | Himachal Pradesh | Paonta Sahib | | |
| 32 | Himachal Pradesh | Sunder Nagar | | |
| 33 | Jammu & Kashmir | Jammu | | |
| 34 | Jammu & Kashmir | Srinagar | | |
| 35 | Jharkhand | Dhanbad | | |
| 36 | Jharkhand | Jamshedpur | | Bokaro, Jaropokhar |
| 37 | Jharkhand | Ranchi | | |
| 38 | Karnataka | Bangalore | | |
| 39 | Karnataka | Devanagere | | |
| 40 | Karnataka | Gulburga | | |
| 41 | Karnataka | Hubli-Dharwad | | |
| 42 | Madhya Pradesh | Bhopal | | |
| 43 | Madhya Pradesh | Gwalior | | |
| 44 | Madhya Pradesh | Indore | Dewas, Ujjain | Mhow, Pitampura |
| 45 | Madhya Pradesh | Jabalpur | | |
| 46 | Madhya Pradesh | Sagar | | |
| 47 | Maharashtra | Akola | | |
| 48 | Maharashtra | Amravati | | |
| 49 | Maharashtra | Aurangabad | | |
| 50 | Maharashtra | Chandrapur | | |
| 51 | Maharashtra | Jalgaon | | |
| 52 | Maharashtra | Jalna | | |
| 53 | Maharashtra | Kolhapur | Sangli | |
| 54 | Maharashtra | Latur | | |
| 55 | Maharashtra | Mumbai | Badlapur, Navi Mumbai, Thane, Ulhasnagar, Vasai Virar | Kalyan, Karjat |
| 56 | Maharashtra | Nagpur | | |
| 57 | Maharashtra | Nashik | | |
| 58 | Maharashtra | Pune | | Pimpri-Chinchwad, Hinjewadi |
| 59 | Maharashtra | Solapur | | |
| 60 | Nagaland | Dimapur | | |
| 61 | Nagaland | Kohima | | |
| 62 | Odisha | Angul | Talcher | |
| 63 | Odisha | Balasore | | |
| 64 | Odisha | Bhubaneswar | Cuttack, Kalinga Nagar | |
| 65 | Odisha | Rourkela | | |
| 66 | Punjab | Amritsar | | Tarn Taran |
| 67 | Punjab | Jalandhar | | Phagwara |
| 68 | Punjab | Khanna | Gobindgarh | |
| 69 | Punjab | Ludhiana | | Philaur |
| 70 | Punjab | Naya Nangal | | Una |
| 71 | Punjab | Pathankot/Dera Baba | Damtal | |
| 72 | Punjab | Patiala | | |
| 73 | Rajasthan | Alwar | | |
| 74 | Rajasthan | Jaipur | | |
| 75 | Rajasthan | Jodhpur | | |
| 76 | Rajasthan | Kota | | |
| 77 | Rajasthan | Udaipur | | |
| 78 | Tamil Nadu | Chennai | | |
| 79 | Tamil Nadu | Madurai | | Singrauli |
| 80 | Tamil Nadu | Thoothukudi | | |
| 81 | Tamil Nadu | Trichy | | |
| 82 | Telangana | Hyderabad | Patancheru, Sangareddy | |
| 83 | Telangana | Nalgonda | | |
| 84 | Uttar Pradesh | Agra | | |
| 85 | Uttar Pradesh | Allahabad | | |
| 86 | Uttar Pradesh | Anpara | | |
| 87 | Uttar Pradesh | Bareily | | |
| 88 | Uttar Pradesh | Firozabad | | |
| 89 | Uttar Pradesh | Gajraula | | |
| 90 | Uttar Pradesh | Gorakhpur | | |
| 91 | Uttar Pradesh | Jhansi | | |
| 92 | Uttar Pradesh | Kanpur | | Unnao |
| 93 | Uttar Pradesh | Khurja | | Bulandshahr |
| 94 | Uttar Pradesh | Lucknow | | Barabanki |
| 95 | Uttar Pradesh | Meerut | | |
| 96 | Uttar Pradesh | Moradabad | | |
| 97 | Uttar Pradesh | Raebareli | | |
| 98 | Uttar Pradesh | Varanasi | | |
| 99 | Uttarakhand | Dehradun | | |
| 100 | Uttarakhand | Kashipur | | |
| 101 | Uttarakhand | Rishikesh | | Haridwar |
| 102 | West Bengal | Asansol | Durgapur | Ranigunj |
| 103 | West Bengal | Haldia | | |
| 104 | West Bengal | Kolkata | Barrackpore, Howrah | |